Sponging Faux Finishes
Urban Revivals has used sponge-based faux finishes primarily on ceilings where it's not easy to do brushwork in large areas. Sponging on walls is highly popular, but found more often in country and Early American decor, which we seldom saw in downtown Washington DC. However, it is a wonderful way to create a pseudo-marble type of finish for ceilings, much as if a faux marble were rendered more cloud-like. BY applying sponged finishes in multiple layers, blending them slightly, and sealing with matte varnish, the ceilings seem to lift from the walls, just as they did in earlier times. Urban Revivals uses sponges of all types, from the standard sponge, to a wide variety of sea sponges (the latter having larger and more "patterned" holes which lend additional visual interest to larger walls). Sponging is particularly attractive when combined with stencils or decoupage. We can provide rapid pricing for quotes, as well as "ball-park budgeting figures" for your room.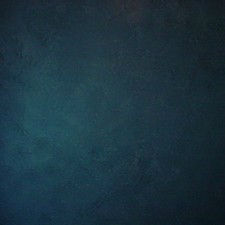 This room was intended to be dark with spot lighting, and the desired effect was to look like a night sky with stars. As a result, the finish was overall dark, but a nearly translucent final coat was applied that would sparkle in spot - like stars in the sky. It's tough to convey in a photograph, but the result was achieved.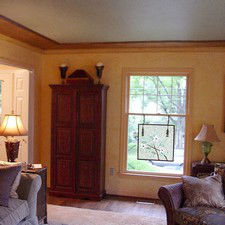 This ceiling, in contrast, shows off its mint green base with sponged finishes in yellow cream with very light white graining. We can also work with oil glazes, to give your sponged room a softer effect; with oil glaze, we soften the pattern with a soft flogging brush, which lends a more modern look to the typical sponging pattern, but is not as diffuse as stippling or colorwashing.