Faux Finishes for Old Brick
Bricks crumbling or covered with old peeling finishes? Has exposure to moisture led to grout problems and flaking? Urban Revivals can repair interior brickwork and finish it in lighter finishes, which contain all the mottling and natural shading variations of real bricks or sandstone.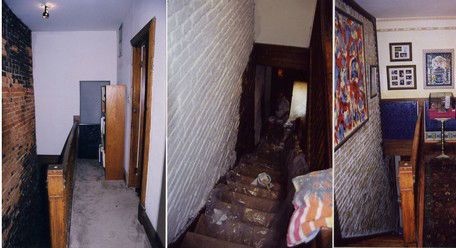 Charred and Damaged Bricks can be restored to a different finish
Our brick finishes are created by hand, on top of existing brick or other flat or textured surfaces. We seal the brick with a fixative such as Dry-Lock, apply base color coats, create mortar tinted in your choice of colors, and finish the bricks in any number of styles.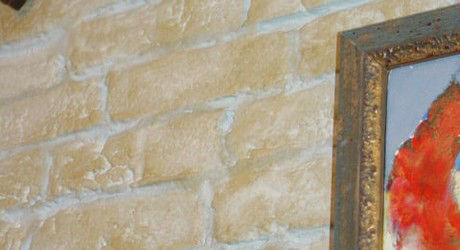 From Distressed to Faux Sandstone Brick
This firewall, in an 1899 row home in Dupont Circle, Washington DC, had its highly distressed interior wall converted to a lighter brighter sandstone finish. Row homes can be dark, and the change from a deep red brick considerably brightened the interior.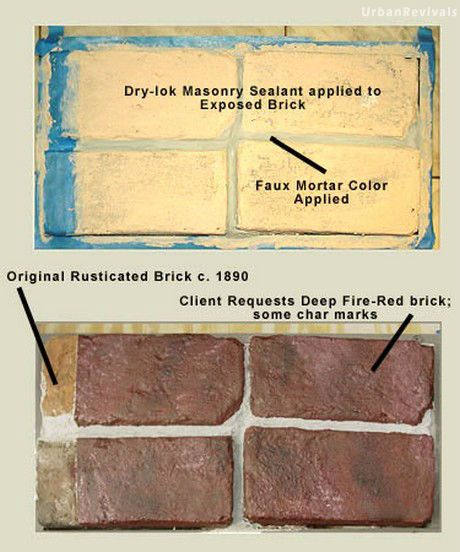 From light to darker
This sample board shows how the original red brick (peeking out in the lower left part of the image) was sealed in Dry-Lock, and painted in deep red hues with darker shadows as would be created by the kiln.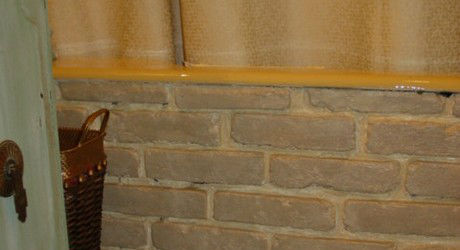 Hide a multitude of problems
This brick, in a bathroom, was patched to restore mortar and chipped corners. It was painted simply, and highly sealed to resist moisture. This was an acceptable interim solution until the bathroom was remodelled.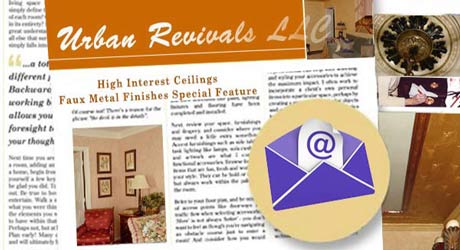 Receive Your Free Monthly E-Newsletter!
Get the latest news on faux finishes for walls, floors, doors, and ceilings. Be inspired by guest writers, special deals, and photos of new techniques for antiquing, color glazes, & fantasy finishes. Straight to your email inbox!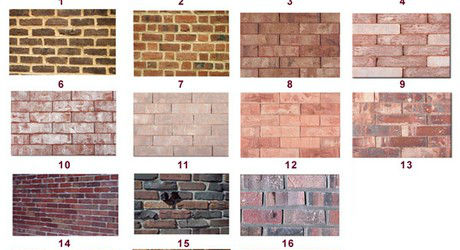 Painted faux brick finishes in a variety of colors
The brick choices are unlimited. Pick the historic style of brick that you like and receive an estimate of the number of passes required to emulate the finish. Work time between finishes can vary considerably, and preparation labor is depending on the underlying condition of the brick.