Faux Tin Ceiling Installations using Armstrong Tiles
Approaching the Grandeur of Real Metal. Faux tin tiles are the perfect complement to even the busiest foyer. Because these versatile tiles can be painted to mimic virtually any metal, they bring a bit of sparkle and into the room, drawing the eye upward. Each of these ceilings only look like real tin! Learn more about faux finishing vinyl and thermoplastic tiles.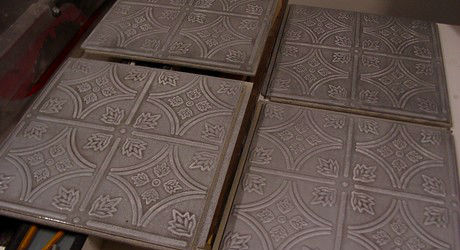 In bright and antiqued metals
Urban Revivals can create any metal finish you want, or even a painted finish with color or aging glazes. These are being made in our production area in antique silver.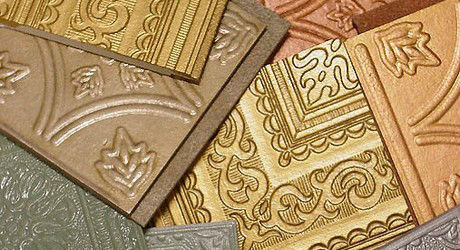 Copper, Gold, Silver, Bronze, and even Gilded finishes
Tiles are tightly interlocked and are secured to your ceiling via ceiling adhesive. They can come in any metallic or painted finish you desire. We can antique finishes, as well as create a "wedgewood" effect where the print is softly glazed in a pale cream wash.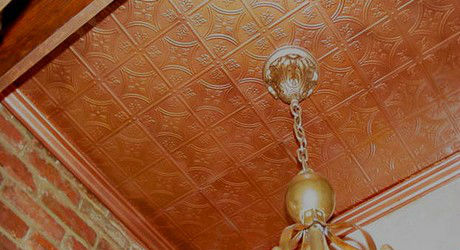 Installation in Antique Copper - Hi Sheen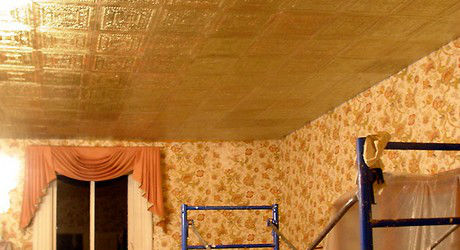 Installation underway with our Gilded Tiles (in Gold over Red)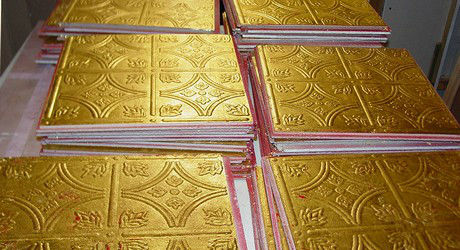 Gilded Tiles in Silver and Gold
Shown here in our production area in gold leaf over red bole.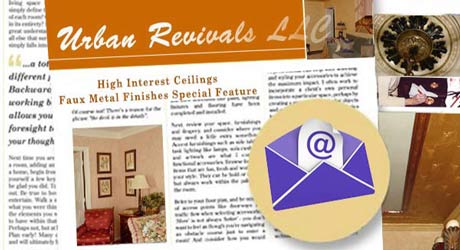 Receive Your Free Monthly E-Newsletter!
Get the latest news on faux finishes for walls, floors, doors, and ceilings. Be inspired by guest writers, special deals, and photos of new techniques for antiquing, color glazes, & fantasy finishes. Straight to your email inbox!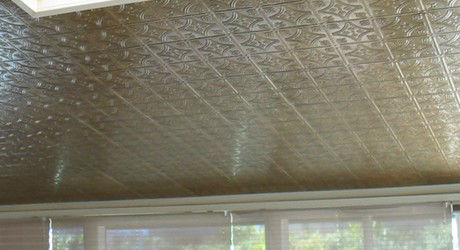 Installation completed of Antique Bronze Armstrong ceiling tiles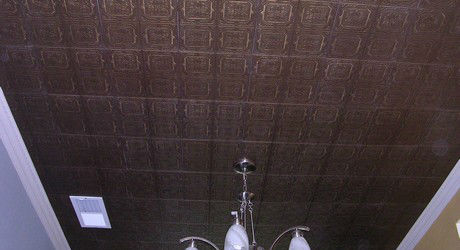 Installation of Antiqued Rust tiles, on the Wellington pattern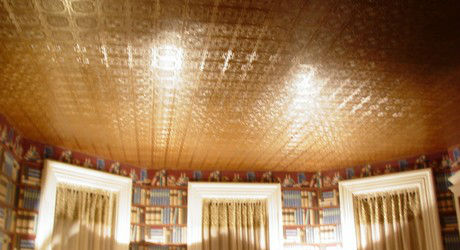 Faux leather ceiling tiles in home in Rockville MD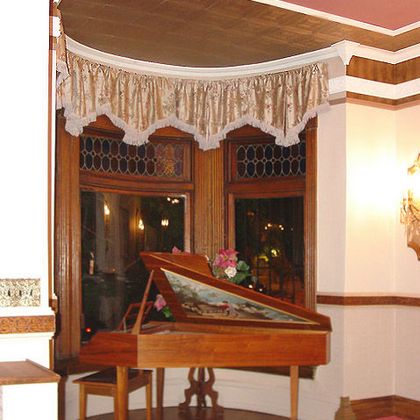 Shown in bright bronze in a Queen Anne turret c.1899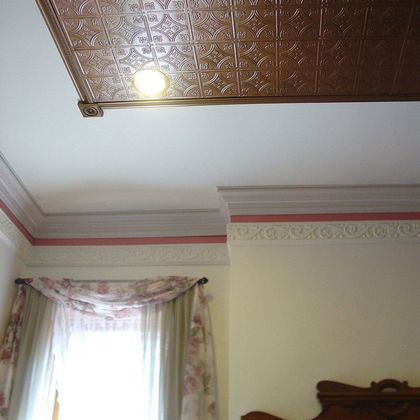 Faux leather ceiling tiles in home in Washington DC, Victorian kitchen restoration