Glazing Techniques
This section highlights techniques which float a water soluble solution, glazing medium, or oil-based solution or gel, over a base coat, to achieve a specific look. Glazing mediums vary by viscosity, and solvent used for thinning. When using oil-based glazes, be sure to have adequate ventilation for the job, as prolonged exposure can cause headaches and/or health problems. Make sure to use the appropriate finish coat for your medium. For example, it may be necessary to intersperse seal coats between color layers in order to assure the next coat does not damage or weaken the layer underneath.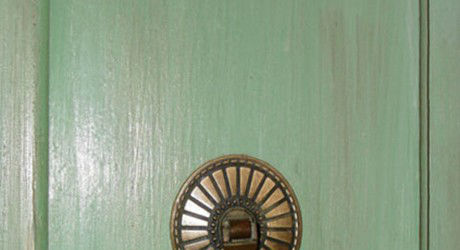 Dragged Glazes for Furniture
This simple treatment used a touch of white pigment suspended in Liquin as the initial glaze coat, followed by a gold metallic glaze. Sealed well, with a non-yellowing polycrylic finish coat.
Read more about faux finishing for furniture
.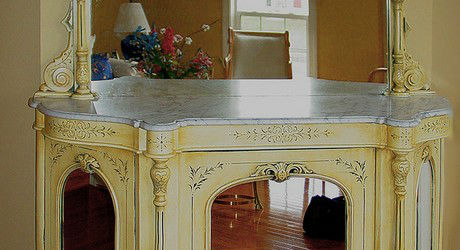 Glazes for antiquing
Charcoal pigment in an acrylic glazing medium was rubbed into the details of this buffet.
View this project in more detail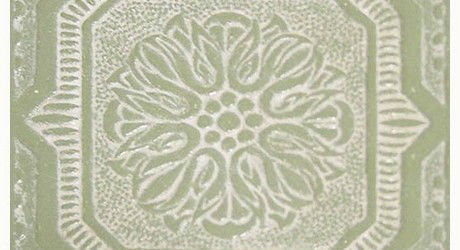 Glazed Ceiling Tiles
Wonderful effects are achieved when a light colored glaze is floated over an Armstrong ceiling tile painted in a pastel base.
read more about Armstrong tile faux finishes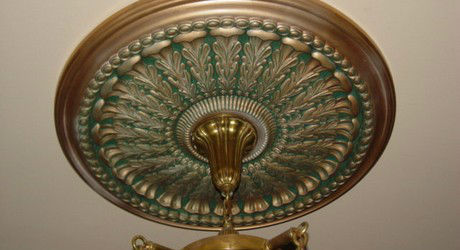 Glazing Ceiling Medallions
A dark green glaze has been used to antique a ceiling medallion painted in a bronze base coat.
read more about ceiling medallions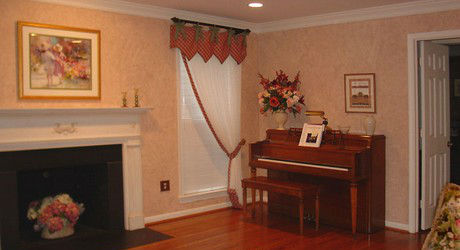 Colorwashing and Ragrolling
A soft highly dilute taupe water-based "glaze" was rag rolled over this room, first colorwashed in pink
About Rag Rolling
About Color Washing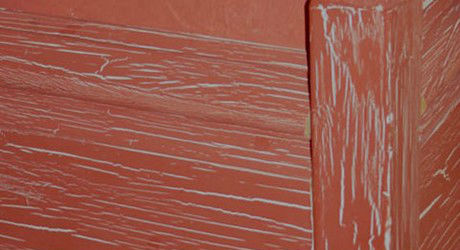 Crackled Finishes
Crackling is achieved by mixing the top coat color in a medium that dries at a different rate than the still slightly wet paint coat underneath, resulting in the pulling apart of the colors. Commercial mediums are available for a variety of crackling effects.
read more about crackled finishes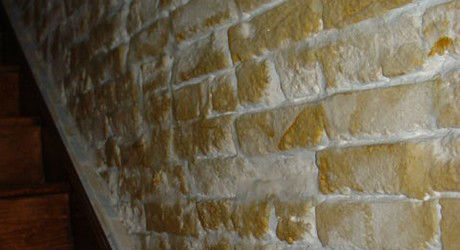 Faux Brick
A variety of tinted glazes are used to create the look of real brick from painted bricks, shown here in a sandstone imitation.
read more about painting brick to look like any type of brick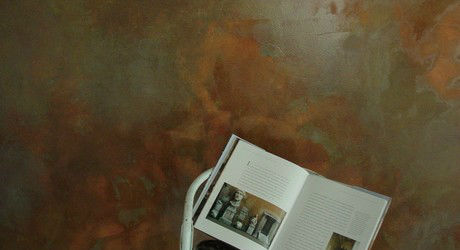 Dramatic Venetian Plaster
We created a rich and aged venetian plaster finish, matching what our client saw in a book. This is a very challenging faux finish and can overpower a room, so use it sparingly.
Venetian Plaster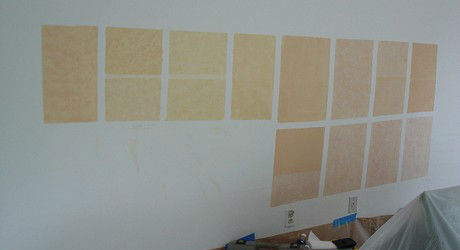 Create Samples of Your Finishes
Faux finishing is a lot of work, so carefully create a variety of samples on the wall, and allow them to stay for a while. Before finishing a room, view the samples at various times of day and lighting conditions, to pick your favorite!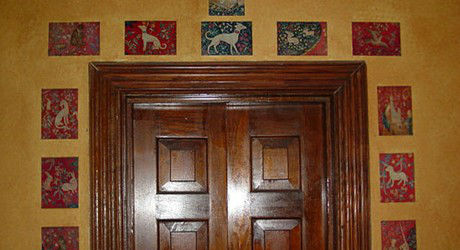 Stippling
A stippled finish, shown here with decoupage, can turn a simple room into a highly dramatic one. The key to this technique is to use the correct brush. A soft expensive brush is usually needed after stippling to soften out the glaze to avoid excessive texture in the finish.
read more about stippling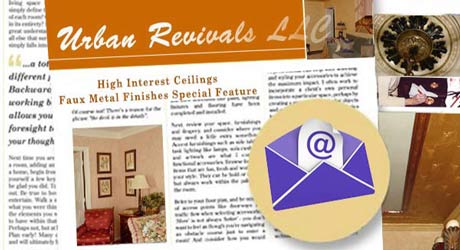 Receive Your Free Monthly E-Newsletter!
Featuring lastest techniques and products for faux finishing, specialty finishes for furniture, and historic restoration techniques for ceilings, walls and floor. Only 1 e-mail a month (we keep it private!)