Stair Landing with Baby Gate
Urban Revivals built a complete landing with baby gate, with restored box-top newel post, that was installed in an Arts & Crafts bungalow. The half pilasters were designed to fit with the style of the antique newel, and are made of oak. The gate is a swing gate, with turned spindles, that matches the spindles of the landing.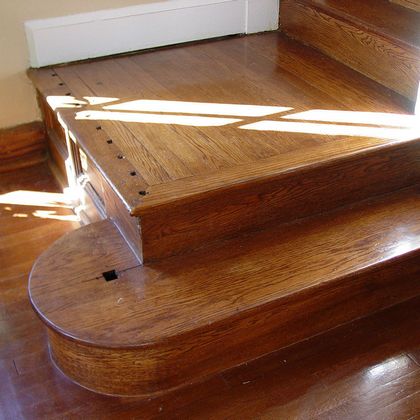 BEFORE - Building a stair landing
This effort started with an empty landing. All trim work was done at the client's location (with the exception of some table saw work done offsite on the half-pilasters). We do this, because most older homes are "not square". By working on site, we can create landings, stairs and gates that appear level, even when other parts of the house are not!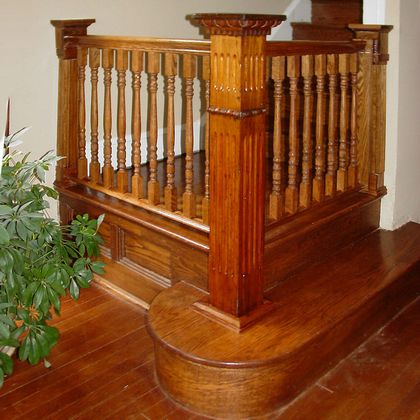 AFTER - Completed landing with integrated child safety gate
The latch was designed to be adult but not baby friendly, and balusters are spaced in distance to be baby safe.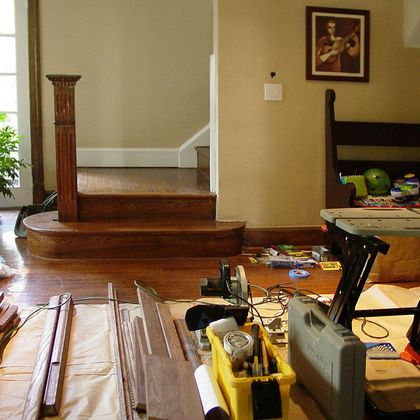 Installing a Newel Post
The newel post, that straddles the steps, is a critical structural element. It is tied into the landing beams underneath the flooring. Newel posts cannot simply be toe-nailed.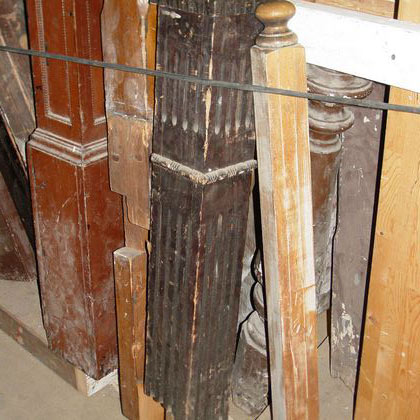 Newel Post Obtained from Salvage
This post was obtained from the Brass Knob Warehouse in Washington DC, an excellent source of salvage architectural ornament. (Post shown in dark brown.
Read more about newel post restoration
)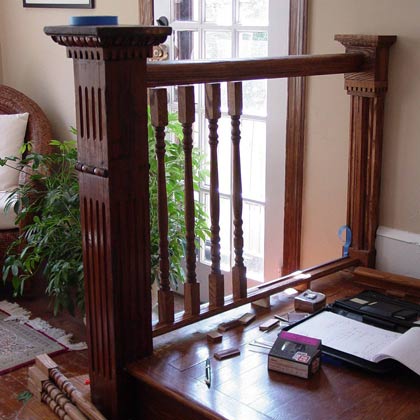 Job In Progress - Stair Landing Construction
The half pilasters, attached to each wall, were designed and built by Urban Revivals to fit with the style of the antique newel, and are made of oak.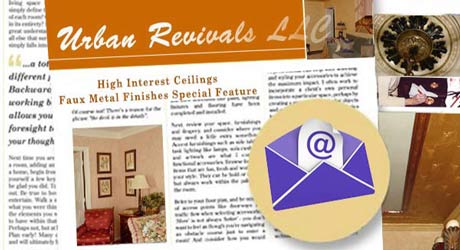 Receive Your Free Monthly E-Newsletter!
Get the latest news on faux finishes for walls, floors, doors, and ceilings. Be inspired by guest writers, special deals, and photos of new techniques for antiquing, color glazes, & fantasy finishes. Straight to your email inbox!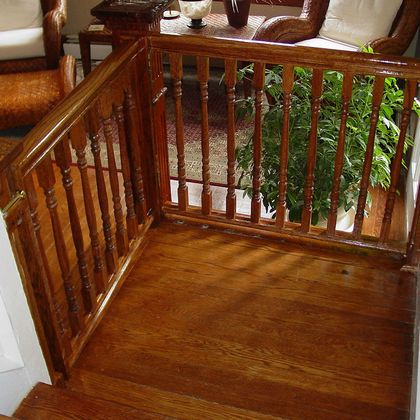 Stair Landing and Baby Gate Completed
The swinging baby gate matches (shown on the left, and latching to the left pilaster against the wall, as you look down the steps) perfectly matches the stair landing.