Faux Plaster Projects
We prefer using water-based treatments to achieve the look of aged plaster over drywall, which is shown in this project, but we also use Venetian plaster and joint compound-based techniques for a thicker aged plaster finish. Our first project uses a sandstone colored glaze as opposed to the grey/raw umber blend for plaster. Scroll down for more traditional faux plaster looks.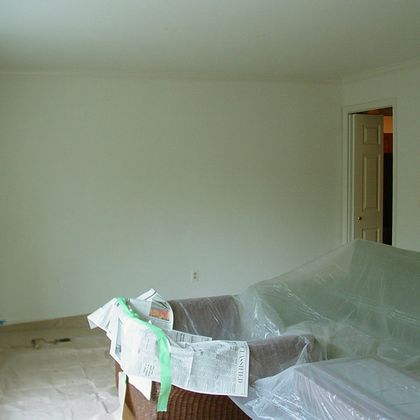 Getting Started
This home was owned by a very artistic family with interests in theatre and dance. The owners were fond of Anglo-Japanese styles (i.e., Aesthetic movement styling). The room featured warmly colored art with tropical motifs, with luxuriously appointed textiles and Tunisian and Moorish furniture, woodwork, and pottery.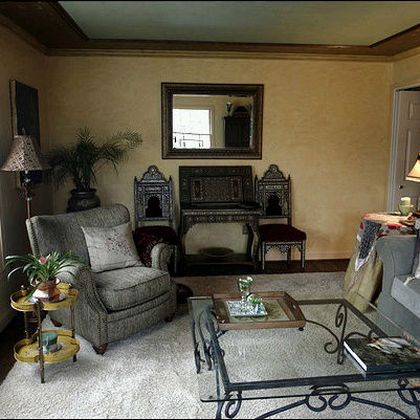 Completed Faux Finishing (Ragging off) Job
Urban Revivals responded with a design featuring a marbled ceiling, anaglypta gilded ceiling borders, ornamental moldings, and walls finished in a faux plaster finish. The plaster finish was troweled on, and was tinted a light sand-terracotta color. Some ragging off was used to soften the trowel marks. This job was featured in the
Washington Post and San Francisco Chronicle.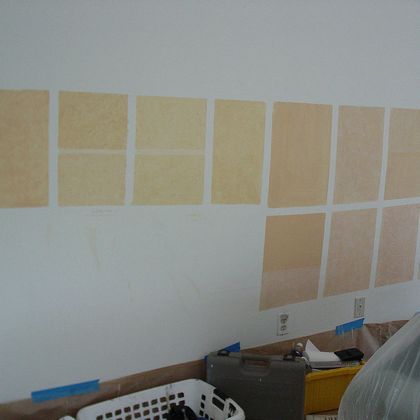 Picking a Color
Plaster finishes can be quite overwhelming. It is important to consider color variations in small spots on the wall, so that the owner can view the colors over time to firm their decision.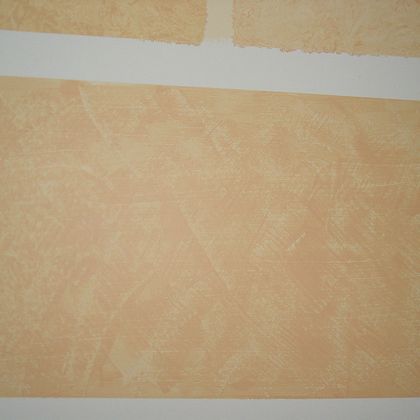 Trowel Strokes and Smoothing of Finish
The lines in this finish can be rendered firmly or with much less contrast and softness. This finish did requires some softening. We used lint free rags to soften the finish.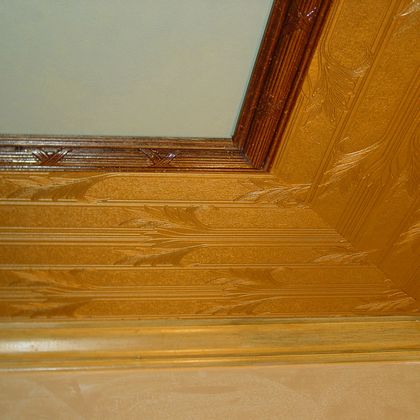 Ceiling Finished with Metallic Painted Anaglypta
This anaglypta embossed paper was painted in gold, and finished with a bamboo molding, stained and flyspecked.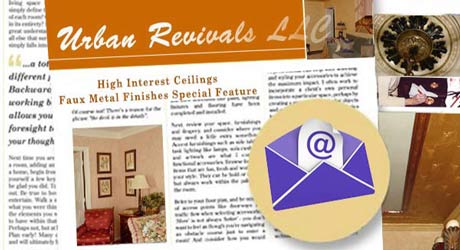 Receive Your Free Monthly E-Newsletter!
Get the latest news on faux finishes for walls, floors, doors, and ceilings. Be inspired by guest writers, special deals, and photos of new techniques for antiquing, color glazes, & fantasy finishes. Straight to your email inbox!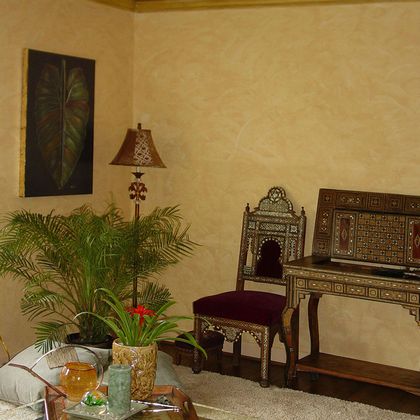 Appearance of Sandstone
The warmth and texture of this finish created the earth tones and warm reflections in this room that paired well with the greenery and flowers.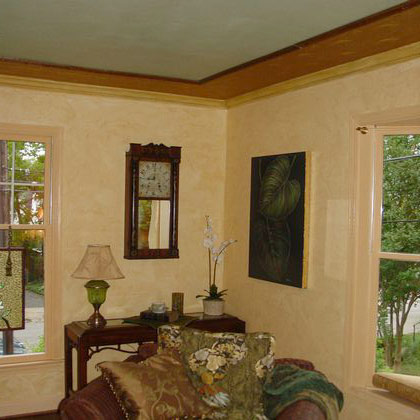 Faux marbled ceiling
The ceiling was marbled
, with indistinct graining, in a pale green with cream and grey veining. It was sealed in matte varnish.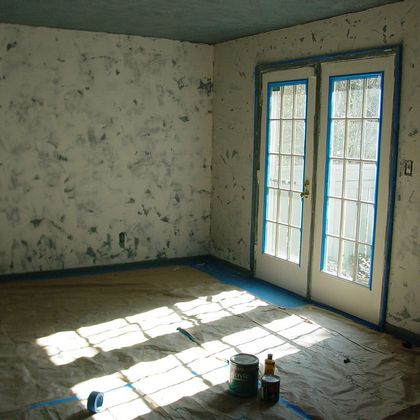 Faux Plaster technique (in progress)