Crackled Faux Finishes
Urban Revivals will work with you to determine how large or small you want the crackeling, and whether or not you want to emphasize the cracks with additional wipes of colored oil glaze. Pricing for glazed finishes are roughly based on surface area and number of layers and the speed of the technique.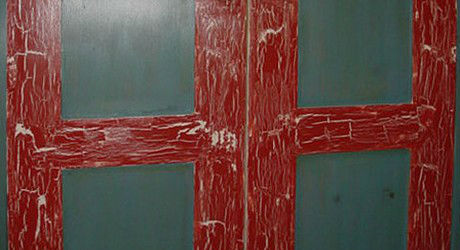 Cracks result from dry time differences
Crackled finishes are created by applying two different types of varnish, whose different composition results in different drying rates, thus creating the small cracks.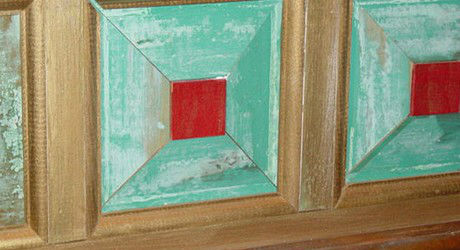 Ideal for moldings and compound constructions
Very tiny crackles have been applied to the finish coat of this baseboard. (Above this baseboard are stencilled Moorish patterns). Many new pieces of furniture, existing cabinets, or painted antique pieces can benefit from a light sheen that is delicately cracked. These finishes are inspired by the French and Asian finishes popularized in the late 1800's.
Crackled Finishes should be applied over decorative paint layers
Crackled finishes are generally done last or next to last. For example, this inexpensive white cabinet was highly distressed. First there was a very dark basecoat, followed by a green layer, with whitewash color applied. This was done in quick succession. The crackling varnish was applied next, and some of the paint was exposed to show the dark layer underneath (i.e. "distressing"). The crackling layer was then coated in spots with a bronze metallic powder in wax base.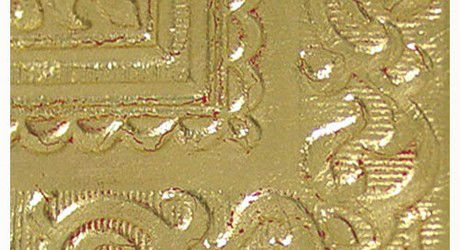 Gilding and Crackled Finishes
Crackled finishes do not always need to be accomplished via glazes. You can use gold leaf (or the far cheaper composite leaf as shown here!) to create your finish dating from Byzantine times - gold leaf over red bole. For more on gilding and iconography, visit the Besty Porter website. This same finish has been applied to an Armstrong ceiling tile, and it can look fabulous when installed.
View Metallic Finishes on Ceiling tiles
More on Gilding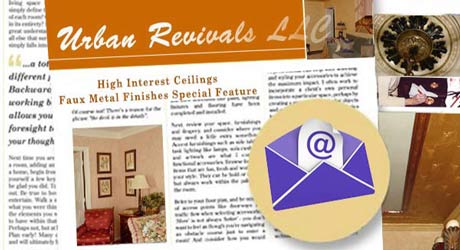 Receive Your Free Monthly E-Newsletter!
This newsletter focuses on new videos, new faux finishes, and free step-by-step procedures for how to create them. We'll also feature links to other artisans, new product releases, and links to e-books intended for do-it-yourselfers.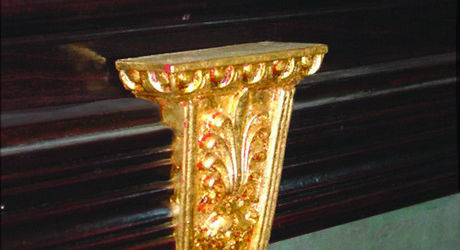 Gilding Keystones and Appliques
Gold leaf over bole (in any color of your choosing, but red and green are traditional) look fabulous for furniture ornament such as this keystone, reused from a door within a rebuilt floor-to-ceiling fireplace mantel.
More on Gilding