Buffet Restoration and Antiquing
We show how to antique a piece of furniture, while additionally changing its color and gilding ornament and carving. Shown on a buffet in NW Washington DC. This delightful buffet was easily identifiable as a piece from the 1880's because of its rococo design and English thistle pattern. Work performed by Urban Revivals.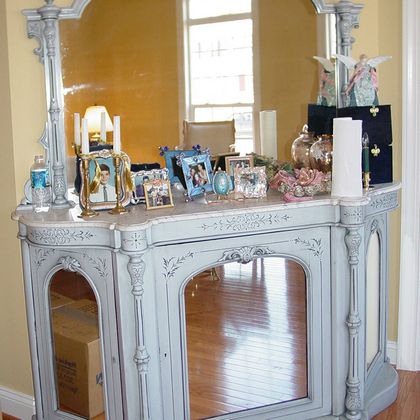 The Original Buffet
This buffet,in blue, did not match the decor and carpet in this new home, following its move.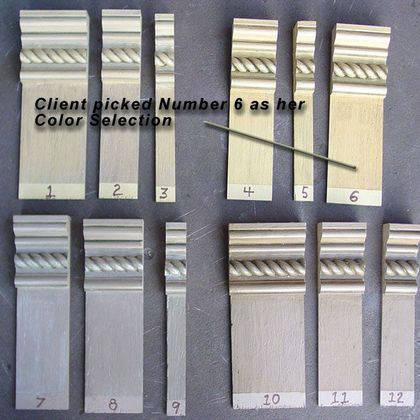 Color Selection
The carpet to be matched contained a full range of hues. Samples were created, and antiqued, to allow the customer to pick her preference.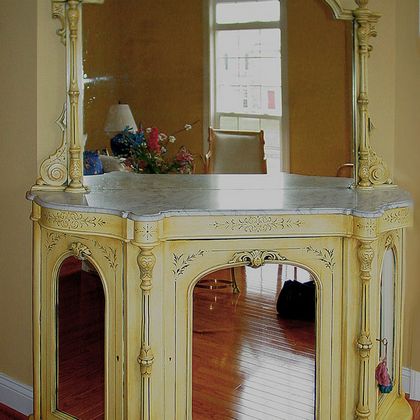 Buffet After Completion
The completed buffet, with its antique glazing (olive and raw umber with black, dilute), sealed and varnished, matches beautifully its surroundings. To top off this beautiful piece, we gilded the shell on top, and wiped it with a varnish, to which metallic leaf powder was added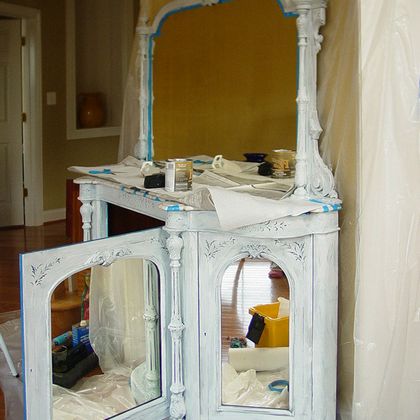 Surface Preparation
Since this buffet was finished in place, the walls and floors were protected from damage. The buffet itself was primed, and we were careful to not fill the carvings. The work was performed with the customer's sample placed carefully on the buffet. After priming, the base yellow coat was applied, followed by two wipes of mustard glaze, and deep olive glaze in the details.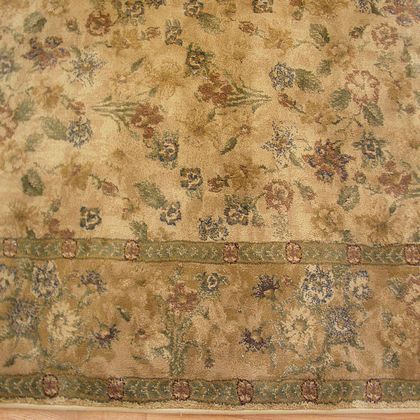 Carpet to Match
Our goal was to have the buffet blend with the wall and this long carpet runner.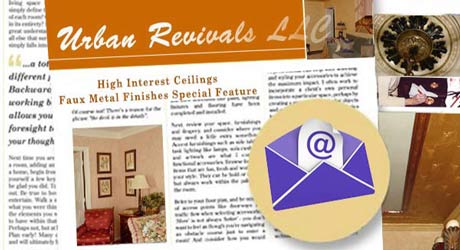 Receive Your Free Monthly E-Newsletter!
Get the latest news on faux finishes for walls, floors, doors, and ceilings. Be inspired by guest writers, special deals, and photos of new techniques for antiquing, color glazes, & fantasy finishes. Straight to your email inbox!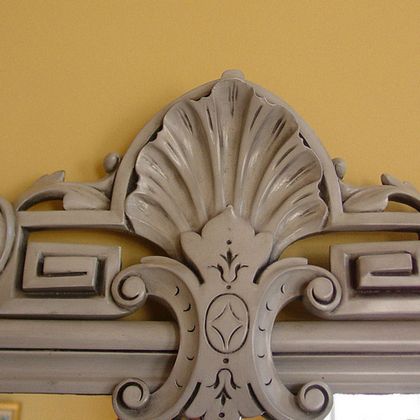 Shell Ornament BEFORE Gilding
This top piece on the buffet was antiqued but largely unadorned. We decided to gild it and pick up peach and gold tones.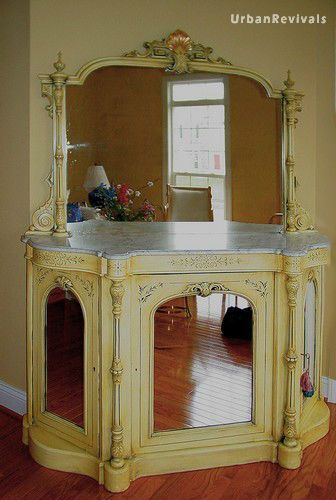 Gilding the Top Ornament
Our goal was to have the buffet blend with the wall and this long carpet runner. We used a faux Aztec Gold leaf (copper-gold blend) for the shell on top.