Is it real plaster or not? Faux plastering is a technique that is ideal for walls that suffer from many imperfections. This pure painting technique can make any wall look old, and even crumbly. Overall, the effect lightens a room, and adds a touch of elegance.
Creating Faux Plaster Looks - Adding Age to Drywall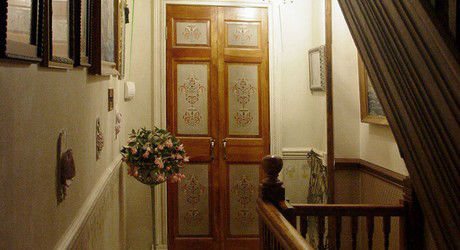 Pairs well with Stencils and Imagery
Stenciling, decoupage, and insets add attractive accents to faux plaster walls. These faux finishes can stand on their own, but look even more elegant when paired with antiqued moldings, columns, or wall imagery.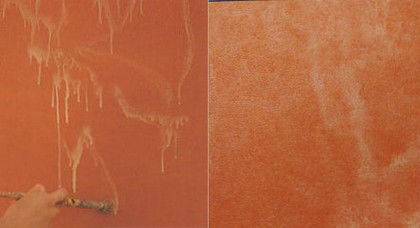 Faux Plaster - A Messy water-based technique
The aged plaster effect is reached via successive layer of paints, applied in progressively thinner dilutions. Unlike color washing, the paints are dribbled, not brushed. Faux plaster walls look striking with chair rail molding that has been aged, or with baseboards finished like
Florentine Stone
.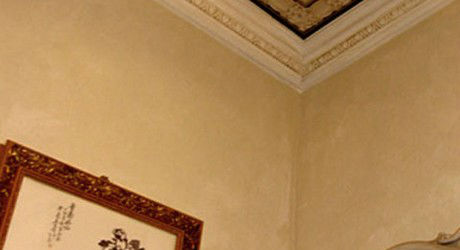 Water based technique intended over Drywall
The finish is shown here using dribbles of water, mixed with white and raw umber colorant, drizzled over a wall with off-white base coat. Faux Aging is often accomplished with two color distressing or with brush-based techniques which lift off underlying color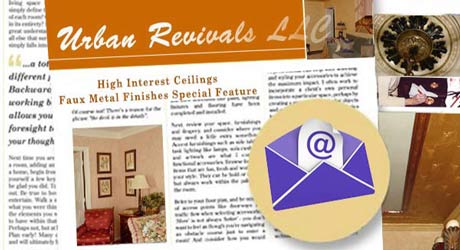 Free Monthly E-Newsletter
Featuring lastest techniques and products for faux finishing, specialty finishes for furniture, and historic restoration techniques for ceilings, walls and floor. Only 1 e-mail a month (we keep it private!)
Follow UrbanRevivals on Facebook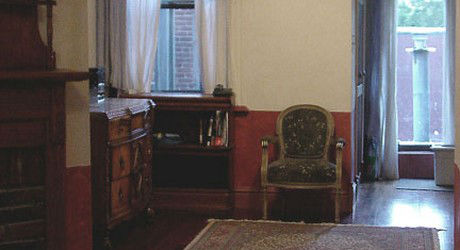 Adding texture with Joint compound
Alternatively, we make use of skim costs of plaster compounds (or related compounds, such as drywall joint compounds) to create skim plaster coats of assorted textures. This wall has a texture (joint compound was applied with a trowel, colorwashed, then sealed with a matte top coat).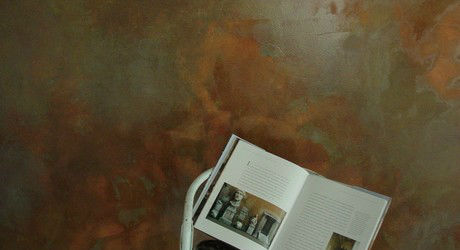 Faux Plaster - More Intense Colors and Textures
It is possible to build upon the above technique buy applying darker paint finishes over the roughened surface and then adding multiple thick skim coats in alternate colors. As this point, you're moving into
the Venetian plaster types of finishes
, and many of the glazes are oil or resin-based for greater viscosity and work time. (This wall was created in a Washington DC and the homeowner wanted a look as featured in a book).