Interior Columns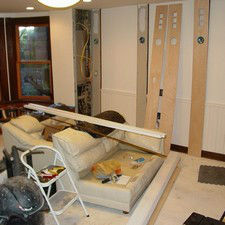 Clean Lines of the Stick, Bungalow, and Prairie Styles.
These styles, featured strong horizontal and vertical wood lines, are enhanced with columns featuring mortised cut-outs.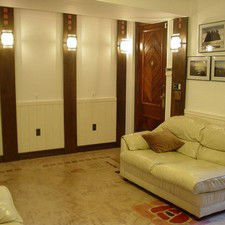 Mackintosh Columns
These 1x8 planks have been cut, using a simple stencil pattern, in the style of Charles Rennie Mackintosh, to create a modern look for an English Basement. They were finished in an American Walnut water based stain. Urban Revivals can intermix columns with your painted, plastered, or stucco walls, with both paint or stain-grade columns.
View the Mackintosh wall project
.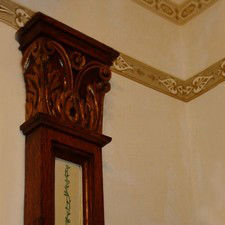 Column Decoration
Ornamental pilasters, such as this one, can be placed in your hallways. If they have a simple design, they can be painted, antiqued, or stencilled.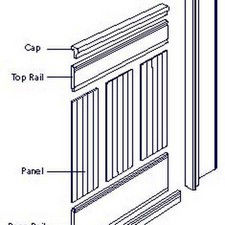 Wall Columns with Beadboard
For the area between your columns, consider painted or stained beadboard. When it used for the lower third of your wall, and topped with chairrail, it makes for a beautiful wainscoting. We recommend a sturdier beadboard with tongue-and-groove installation. For lightweight beadboard, you may use a good adhesive like Pro-Lock.
Interior Columns and Pilasters
Most homes cannot handle the sheer size of Georgian-style and Greek Revival columns. But, with the help of a bit of luck at the salvage shop, smaller scale pilasters (flattened columns) can be used to enhance doorways and walls. Urban Revivals can help you locate salvaged pieces, or acquire newly made columns, half-columns, and pilasters made from pine, poplar, resins, polyurethane, or fibrous plaster.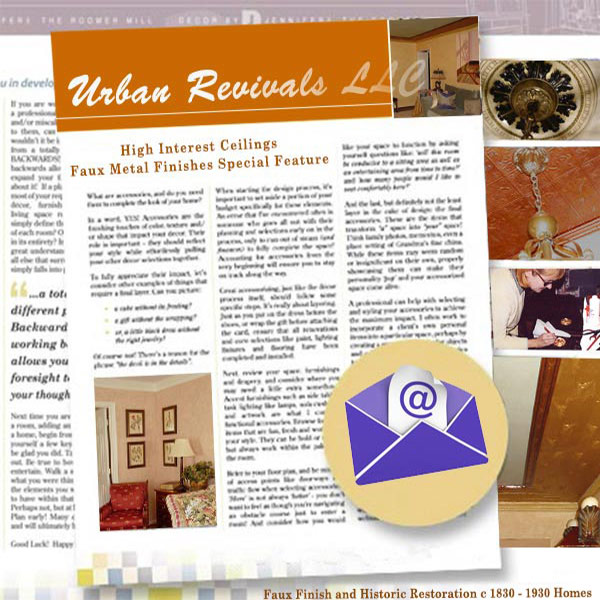 Receive Your Free Monthly E-Newsletter!
Featuring the lastest techniques and products for faux finishing, specialty finishes for furniture, and historic restoration techniques for ceilings, walls and floor. Only 1 e-mail a month (we keep it private!)
Follow UrbanRevivals on Facebook