In Renaissance Venice, traders from around the world gathered to poor over rugs, silks, carvings, and spices. These collectible and luxurious items were often displayed against a backdrop of ancient terracotta colored plaster, thereby contrasting the rich look of these exotics with the simple wall backdrop. An ancient-looking plaster wall has simple elegance and can add light and drama to any room.
Venetian and Textured Red Wall Finishes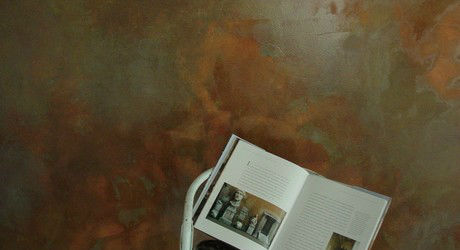 Recreation of an Italian Wall
This finish was created using a joint compound base over plain white wall, which was saturated several times with a terracotta water-based paint (thinned). Allowed to dry, and glazed with an raw umber top coat, which was allowed to dry thoroughly. It was sanded to expose a bit of the joint compound. For more distressing, you can put a bit of wax on the joint compound before applying the finish, and knock it off afterwards, for the look of a truly aged wall.
View Dry Pigments - Ideal for blending - Historic Set of 8 Colors
⇧ Click Cover to Buy at Amazon
Appearance is Highly Dependent on Tools and Plaster Mix
A Venetian plaster effect is created by using real plaster (or a mix with joint compound) on top of your regular wall. The wall is first painted with a base coat (normally a yellow cream) and then topped with untextured plaster. The plaster can be aged further, with "faux cracks" and holes. In addition, the plaster may be left unpainted, or tinted, with a diluted paint top coat. For mid-size or larger rooms, we highly recommend a terracotta plaster coloring applied only below the wainscoating.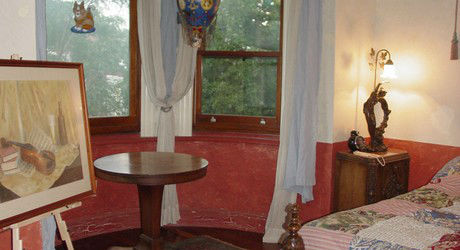 Venetian Plaster Bedroom
Burnished Venetian plaster finishes are available. With those finishes, the final plaster layer is steel-wooled and trowel-burnished, for a glowing finish that still reflects the textural interest made possible only by plaster.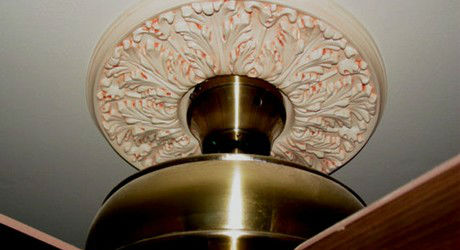 Terracotta Glazes
With terracotta walls, a matching glaze can be lightly applied to other architectura ornament such as this inexpensive medallion.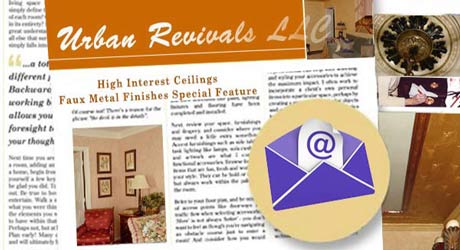 Receive Your Free Monthly E-Newsletter!
Featuring lastest techniques and products for faux finishing, specialty finishes for furniture, and historic restoration techniques for ceilings, walls and floor. Only 1 e-mail a month (we keep it private!)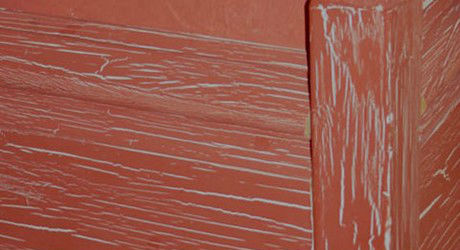 Trimwork for Venetian Plaster Walls
With terracotta walls, a crackled glaze can be used for Pompeian style decor. Your baseboard should be painted with a light base coat, and a crackling glaze applied. The latex top coat can be in red color to match your walls. A thin crackling glaze coat will result in crackles as shown. A variety of glazes are available, some with faint crackles, and others more prominent.