A pietra serena, or Florentine stone, is associated with the historic town center of Florence Italy. The stone is a grey sandstone with little to no graining. Today it is often seen in wall and floor tile. (It was picked by Steve Jobs for the Apple stores). It has a long history, and was found in Renaissance friezes and chimneywork. It was revived again in the Edwardian era when a cleaner lighter "less fussy" style was desired for architectural ornament.
Pietra Serena Florentine Stone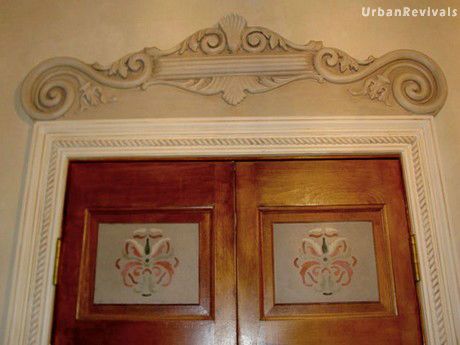 A Grey Stone finish that adds weight to architectural ornament
In southern Italy, it was characteristic to use pietra serena stone, as part of columns, door pediments, and moldings in piazzas and grand homes and villas. You can obtain this look today, far more simply, by applying a pietra serena finish, also called "Florentine Stone" to your surrounding carvings or other architectural detail.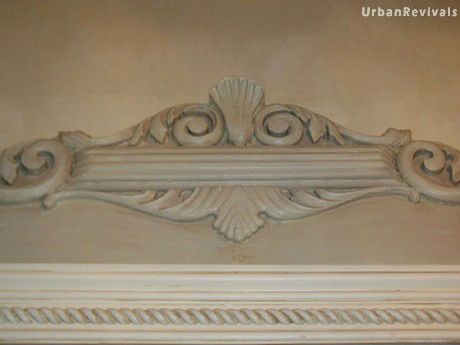 A decorative painting technique
The technique relies on using shades of grey, with a bit of raw umber and yellow ochre, to create a look of stone. We highlight the exposed and curved surfaces in a lighter grey or off-white. We can also apply antique glazes, rottenstone finishes, and other effects to create the look of more age.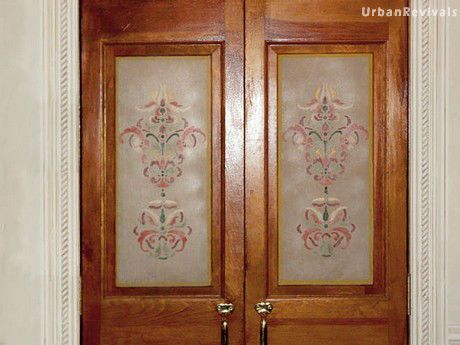 As a neutral base for wall and door panels
The peitra serena finish has multiple grey tones within it, which adds more visual interest than a flat grey background. In this door, the grey base has been ringed with yellow ochre and a stencil applied, using metallic and pigmented waxes, to avoid dripping on doors.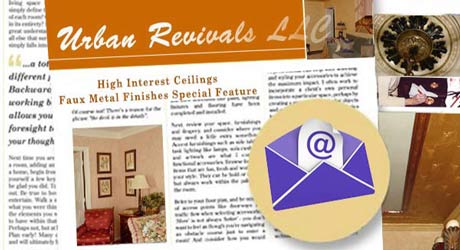 Receive Your Free Monthly E-Newsletter!
Featuring lastest techniques and products for faux finishing, specialty finishes for furniture, and historic restoration techniques for ceilings, walls and floor. Only 1 e-mail a month (we keep it private!)