Fireplace and Mantelpiece Restoration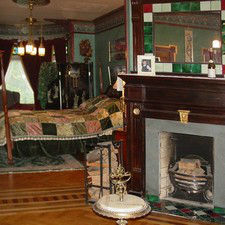 Restoration of Historic Fireplaces
Urban Revivals can apply its experience in furniture and tile repair and refinishing to your fireplace. This mantelpiece was built from salvaged wood, in Eastlake style. We ebonized and gilded the wood.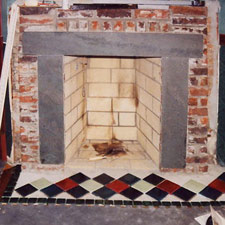 Preparing for Fireplace Renovation
A separate contractor repaired the firebrick and flue size. Urban Revivals patched the hearth cement bed and re-installed hearth tiles, including the search for very close imitations. (See results previous picture)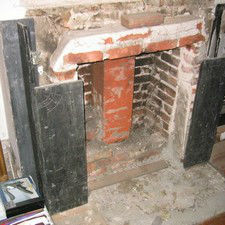 Art Tile Installation
Urban Revivals ordered art tiles from England and rebuilt this fireplace (see results next picture). The existing slate was used as a base for the tile but was considered too damaged to be retained as the main surround.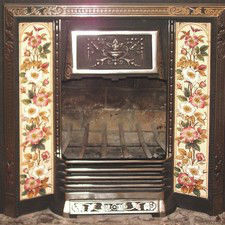 After Restoration
This small Rumford fireplace provided warmth to an English basement, c. 1899, in the downtown DC area.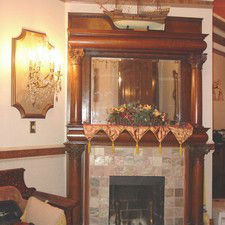 Primary Fireplace Restoration
This fireplace required refinishing of the curved wood in its mantelpiece that displayed beautiful graining, with trimwork created to match lengths that were missing.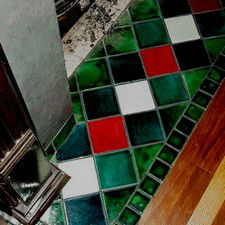 Tiles Selected to match Victorian Wallpaper
Services
We can also create a new mantelpiece for you, using salvaged lumber from historic homes; tailor made to fit in your room and complement your decor. Our fireplace services include:
Mantelpiece Construction
Change damaged or unattractive brick to faux brick
Attachment or Reattachment to Wall
Removal of stains and cleaning of marble or slate
Restoration of Hearth or Surround Tiles
Mantelpiece refinishing or restoration
Keep Up to Date on Restoration News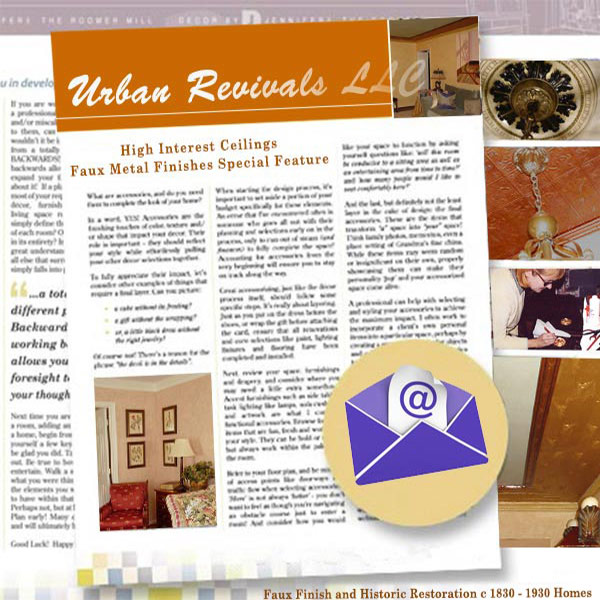 Receive Your Free Monthly E-Newsletter!
Featuring the lastest techniques and products for faux finishing, specialty finishes for furniture, and historic restoration techniques for ceilings, walls and floor. Only 1 e-mail a month (we keep it private!)
Follow UrbanRevivals on Facebook