Restoring Historic Floors - Recreating Period Styles
The Washington area is blessed with grand homes and embassies with floor patterns that can be placed into your home, too. Let Urban Revivals provide you with floor plans that can be used by do-it-yourselfers, or any floor installer. All photos on this page reflect designs and floor creation performed by Urban Revivals.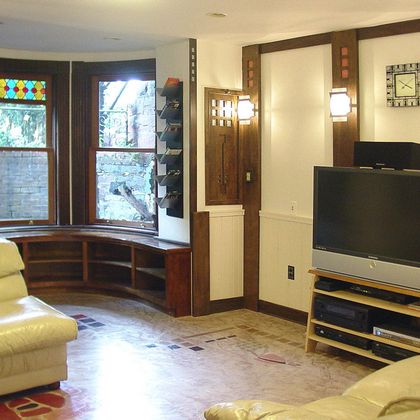 Mackintosh inspired Skimstone Flooring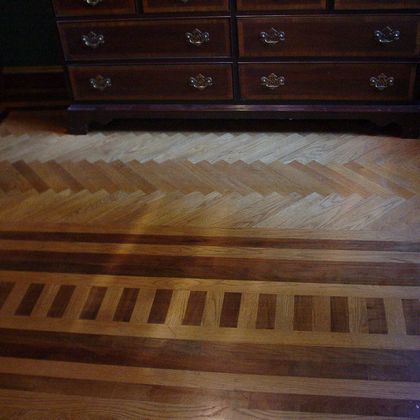 Wood inlays as thresholds
Washington DC homes c 1890-1910 often used alternating wood inlays of different types, to create a visual separate between rooms having only passageways, not doors. This floor, in white oak and walnut, was installed by Urban Revivals.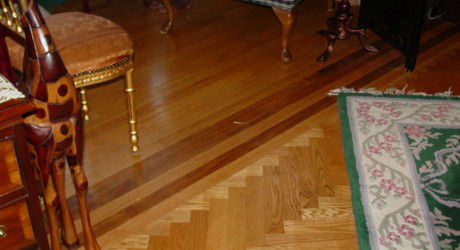 Wood inlays as thresholds
Inlays were used throughout this floor, between 4 different living areas. This approach works well in rowhouses with long narrow floor layouts, where having doors would make the home very dark.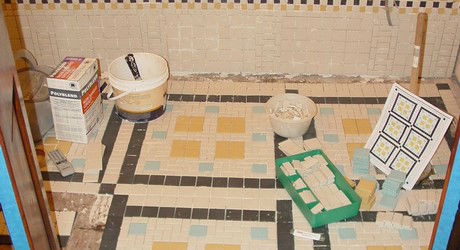 Mosaic Floor installation
This design is based on tile patterns found in homes within the Dupont Circle area. Tiles are modern, but reminiscent of older encaustic tiles. They are unglazed but sealed and acceptable for bathroom use.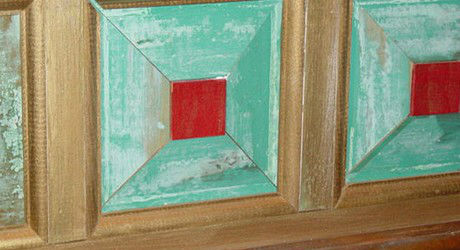 Ornamental Baseboards
We can create compound baseboard (and cornice) constructions that blend moldings and panels that we build and design from scratch, in your choice of colors and finishes. The design here was intentionally weathered, to give the appearance of age.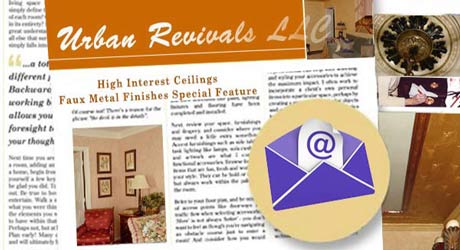 Receive Your Free Monthly E-Newsletter!
Get the latest news on faux finishes for walls, floors, doors, and ceilings. Be inspired by guest writers, special deals, and photos of new techniques for antiquing, color glazes, & fantasy finishes. Straight to your email inbox!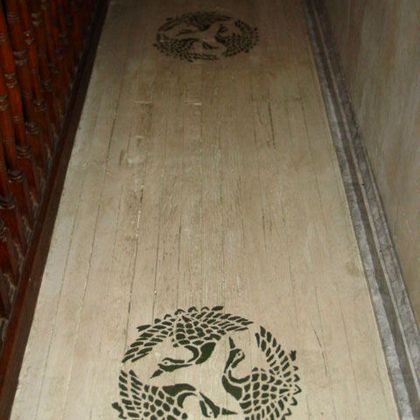 Painted Floors with Period Stencils
This floor was greatly damaged from long exposure to rain, from a failed roof. Rotted wood was removed. The floor was primed, painted, antiqued (to mask a multitude of sins) and stencilled. The baseboard, which looks like marble, is actually decoupage.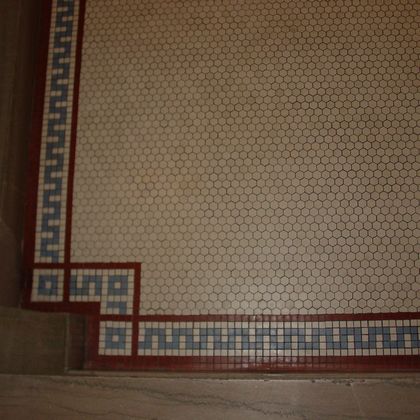 Replacement of Missing Tiles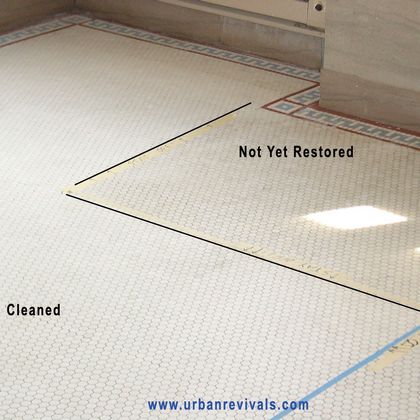 Complete Cleaning and Repair of Cracked Tile and Missing Grout
The entire floor was cleaned and restored across a 1600 sq foot area.