Tile Pictures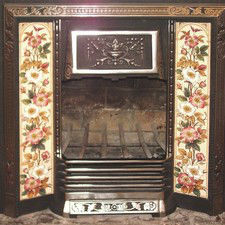 Victorian Firebox with Art Tiles
These English art side tiles adorn a small Rumford fireplace in an 1899 Washington DC home. These tiles are a restoration of the existing fireplace.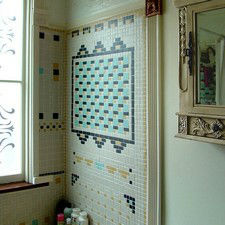 Mosaic Motifs
The matte mosaics were used to re-create motifs in tile found in the Dupont Circle area, in homes dating from 1895-1905. Before undertaking such a job, it is critical to draw detailed diagrams beforehand of the final design.
read more about mosaic installation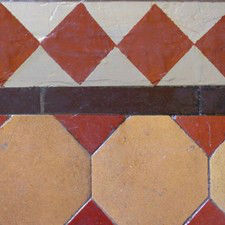 Encaustic Tiles
Encaustic tiles generally have a matte (unglazed) finish. These tiles, because they are in a foyer, have been heavily used, patched, and finished with a durable clear epoxy finish to help prevent further crumbling.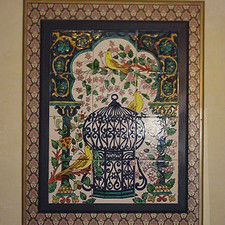 Tiles as Pictures
These Tunisian tiles, from a flea market, look wonderful when mortared to the wall. We recommend a backer board for a good grip. Pack tiles closely and use a non sanded grout. Use a level to outline your frame before tiling. Double framing allows a decorative wallpaper border to be added.
Our Experience
We have experience in the restoration of historic tile floors, in their cleaning, creation of matching replacement tiles, and design of mosaic patterns characteristic of the Victorian era. Our tile work has been featured in Old House Journal.
Laying of New Tile Floors - Glazed, Quarry, Encaustic, and Mosaic
Recoloring broken areas of tiles (using an epoxy-enamel approach)
Removing paint from tile
Tiling walls and fireplaces and unusual tile locations
Creating Victorian Tile Designs
Crafts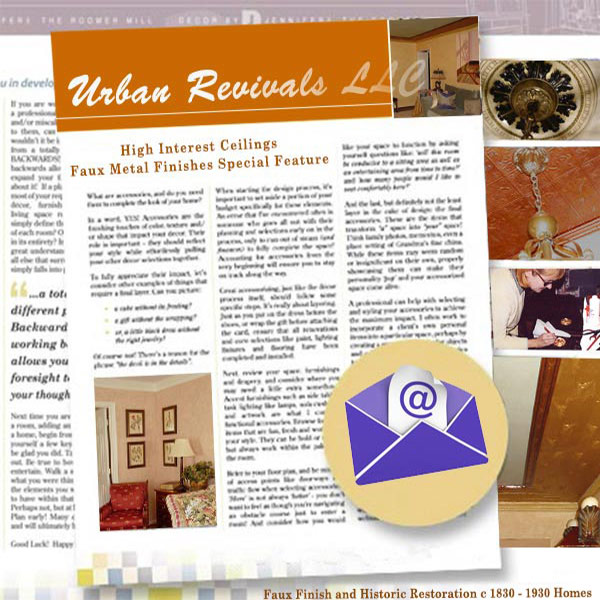 Receive Your Free Monthly E-Newsletter!
Featuring the lastest techniques and products for faux finishing, specialty finishes for furniture, and historic restoration techniques for ceilings, walls and floor. Only 1 e-mail a month (we keep it private!)
Follow UrbanRevivals on Facebook