Concrete Floor Restoration with Skimstone Finish
Skimstone Hybridized Portland Cement is a unique and exciting new decorative finishing system. A basic 3-coat application allows design professionals to create a beautiful multi-color textured appearance on concrete floors Let Urban Revivals create unique one-of-a-kind designs, complete with stenciled patterns, for your concrete floor.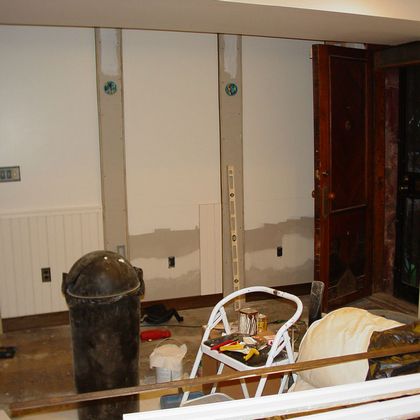 Surface Preparation
Standard approach is to work from ceilings down to floors. This English basement was repainted, with the addition of columns and wainscoting. The existing concrete floor was extensively prepared for a Skimstone application. It was cleaned, leveled, and screws and carpet nails were removed.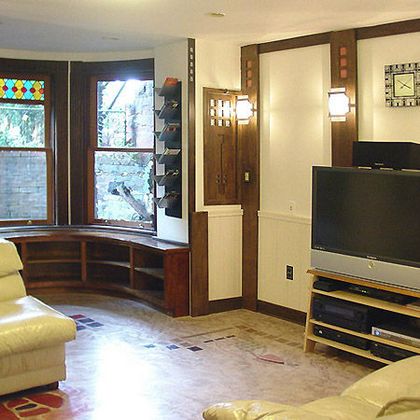 Faux Finishing in Concrete
The finished floor looks very much like colorwashing. The flourishes are a function of how the trowel spreads the Skimstone aggregate. Application typically requires a few hours each day, over 3-4 days. You can walk on the floor 2 hours after each layer is applied.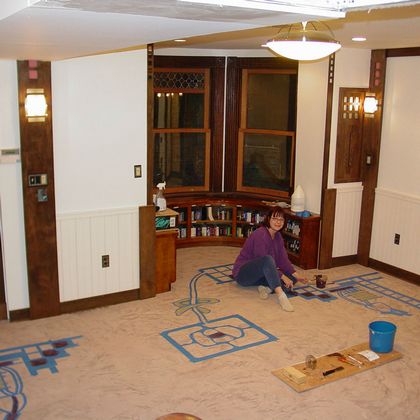 Stencils with Skimstone
Painters tape may be used to mark sections to be stencilled. This pattern uses the classic tulip and rose designs of Charles Rennie Mackintosh as inspiration.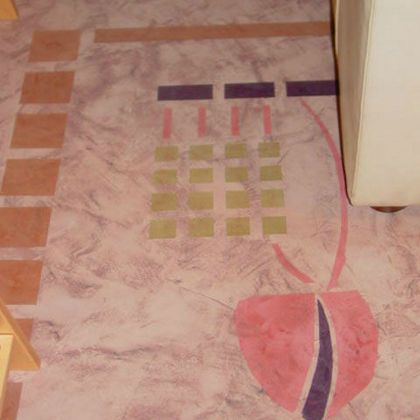 Complete Palette of Colors
Skimstone provides a complete range of colors. The translucency of your design is defined by how you load your trowel, and thickness of the mix.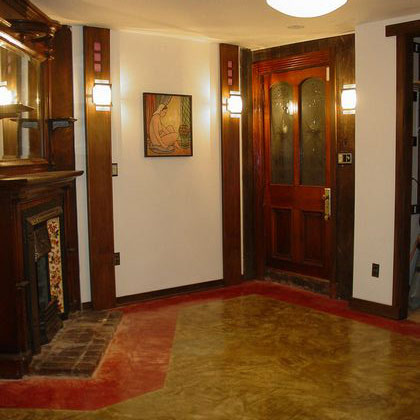 In Satin or Semi-gloss Sheen
The Skimstone treatment is very durable and withstands traffic very well. It is sealed with a water-based top coat, that resists spills and marks.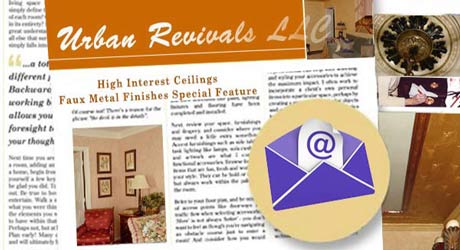 Receive Your Free Monthly E-Newsletter!
Get the latest news on faux finishes for walls, floors, doors, and ceilings. Be inspired by guest writers, special deals, and photos of new techniques for antiquing, color glazes, & fantasy finishes. Straight to your email inbox!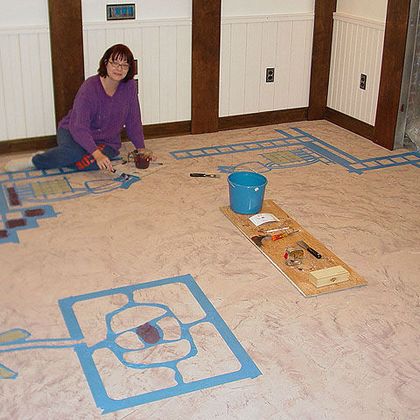 Ideal for Basements
Skimstone was selected because of the history of moisture and pests in this English basement. A skimstone floor, once well sealed, allows for a quick mopping, and fast removal of standing water, dead bugs or debris. It is a much better solution than carpet.