Even the most inexpensive cabinets can be resurfaced to look so much more interesting. These examples, shown here, were all of the cheapest makes and models, and coated with a painted faux wood or whitewashed finish. Once sealed, they have all the durability of the original cabinet.
Spruce Up Your Cabinets with Faux Finishes
Surface Preparation Required for Good Bonding
Urban Revivals precedes any upgrade with a thorough sanding of the cabinet surface, to ensure any new finish will stay permanently bonded. Your cabinets may be colorwashed and antiqued (as shown at left), glazed, combed, wood grained, or any other number of finishes. (Finish here shown in green with antiquing glaze and granular crackle glaze).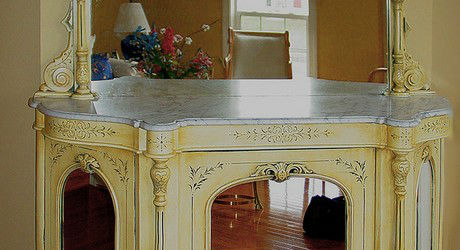 Antiquing Glazes with Carved Panels
Inexpensive furniture - even if made of plastic - can be made to look luxurious once painted and antiqued. This buffet was changed from blue, painted yellow, antiqued with a raw umber base with touch of earth yellow, and antiqued with a glaze rubbed into its carvings. View the
details of the buffet refinishing project
.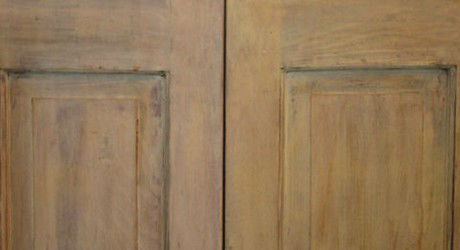 Rustic Whitewash
Have wood that is truly distressed? Use thinned white paint to create a white wash finish. You can top it with a liming wax. Or, use a slightly grey-white paint, highly diluted, and rub into corners after whitewashing. All to dry thoroughly, sand with fine grit, and seal with a non-yellowing polycrylic finish.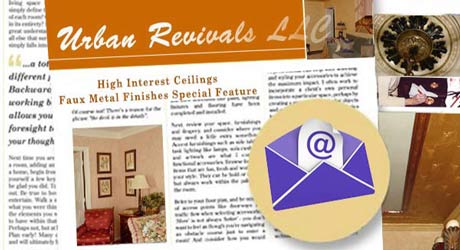 Receive Your Free Monthly E-Newsletter!
Featuring lastest techniques and products for faux finishing, specialty finishes for furniture, and historic restoration techniques for ceilings, walls and floor. Only 1 e-mail a month (we keep it private!)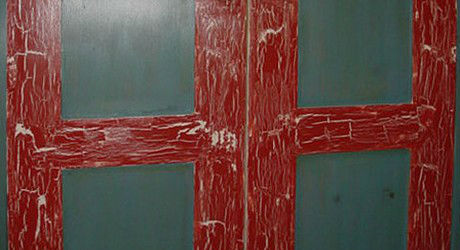 Crackled Glazing
Crackle Glazes come in various styles (
learn more about crackling
) - from wide cracks to very delicate crinkles. You can vary the size of the cracks by the thickness of the glaze and the dry time. The cracks occur because the top coat of paint is cracking as the glaze underneath hardens and expands. Make sure to prime the furniture first, as the base coat needs a very solid bond.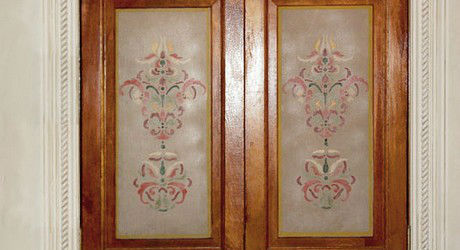 Stencilling
Regular doors and cabinet doors come to life with
intricate stencils
such as this one. A grey base was applied to the panel of the door. It was stencilled using several plastic sheets with cutouts, one sheet per color. We used an assortment of wax pastes to complete the stencil. It was sealed with a spray varnish.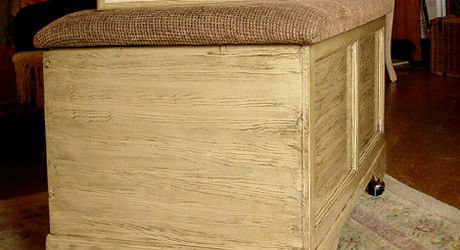 Faux Graining
This faux graining was intended to look less like wood, and more like wicker. This was an inexpensive wood chest used to hold supplies. It was to be placed near white wicker furniture in a sunroom. The darker oak color was primed, painted off-white, and grained in a grey. View a much larger
wood graining project for a stair landing
.