A faux malachite finish is ideal for panels in furniture or walls, or for the surface of cases and chests. Its dark green color with prominent swirls is ideally offset with gilding. Malachite faux finishes are commonly found on chests, mirrors, and as accents on art objects. Faux finishes strive to recreate the concentric banding found most often in African malachite samples.
Faux Malachite Stone
A Vibrant Stone for bejeweled architectural ornament
(real stone shown in photo) Faux malachite consists of a painted base coat with glazing layers placed on top, covered with an artist's varnish at completion. The most challenging part of a faux malachite finish is to create the look of divisions in the stone (square angular sections roughly 4 - 7" in width) which is characteristic of real malachite.
A decorative painting technique
This simple oak chest was in poor shape. Its finish had been battered, and the surface was rough, and water damaged in spots. After restoring the smoothness of the wood and minor repairs, these chest was converted to an extremely attractive storage chest, for holding winter apparel near a main entrance. The chest was covered in gold leaf. Faux malachite was created inside all panels. This malachite used curlier banding to match a mirror.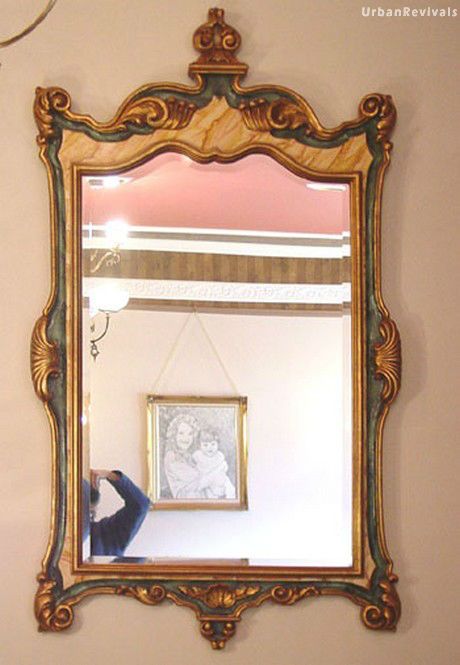 Malachite Finishes within Trimwork or Detailing
The chest accompanied this mirror which was faux marbled with a dark green accent color reminiscent of malachite, in the trim.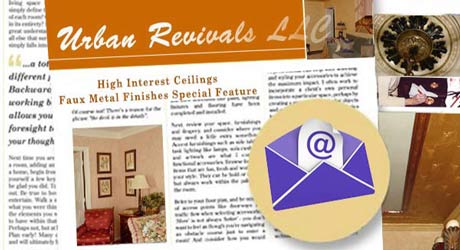 Receive Your Free Monthly E-Newsletter!
Featuring lastest techniques and products for faux finishing, specialty finishes for furniture, and historic restoration techniques for ceilings, walls and floor. Only 1 e-mail a month (we keep it private!)
Our Recommendation for Painting Faux Stone Finishes
It really doesn't get any better than this guide to creating the appearance of gemstones and popular architectural stone.